Landing closed for the Winter - use the "Delta" Field

Official and principle landing field for Chamonix.
GPS : N 45°55'53" E 006° 52'43"
Altitude : 1 040 m
FFVL Registered landing site.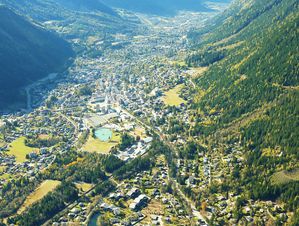 Access: by car leave the Mont Blanc roundabout heading in the direction of Argentiere, the landing field is 500 m on the left, after the sports centre, North of the town.Chamonix railway station (SNCF) + 15 mins by foot.
Facilities: the Gratte Ciel club house, large information board, windsocks and WC.
Dangers / Difficulties:
Large landing field surrounded by trees. It is important to go no further downwind than the small road leading to the gravel pit in order to land in the main field when the prevailing valley wind is
blowing. In the afternoons it can often reach speeds of 20 / 30 kph.
Pilot ability: beginners, to XC.
Landing field for: Plan Praz, Plan d'Aiguille, Flegere, Les Grands Montets, and the Aiguille du Midi.
Special Rules: the town hall has decreed the landing field is more important to the club des sports, and as such is used all winter as a cross-country ski area. When the Bois du Bouchet is out of use, then the hang gliding field 500 m to the East and directly behind is the official landing field (picture p. 42). Please ask at the club, or the paragliding schools, or a professional pilot for the latest information: www.lesgratteciel.net.
Flight conditions: landing any time of the day, but beware the valley breeze can get strong in the afternoon.