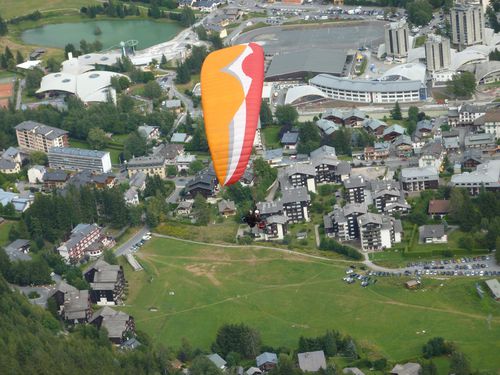 Landing closed for the Winter - use the "Delta" Field
Forbidden in Winter
GPS : N 45° 55' 42" - E 006°51'65".
Altitude : 1 050 m.
Registered with the FFVL.
Access: by car from Chamonix look for the roundabout showing signs for Le Brevent after 500 m turn right going in the direction of Praz / Argentiere, after another 500 m the landing is on your left opposite the hotel Sapiniere and the Residence du Savoy. Chamonix railway station (SNCF) + 10 mins by foot.
Facilities: limited car parking, Windsocks and tell tales.
Special difficulties: the landing field is enclosed and surrounded by buildings. It is large, but it is advised to be extremely cautious, as there is generally a valley breeze and you are generally flying in the lee.
Pilots ability: autonomous to XC pilots
Landing field for : Plan Praz, and Flegere.
Special Rules: completely forbidden in winter.
Ask for information from the local schools, and professionals as well as checking on the notice boards.
Flying conditions: suitable in the morning before
the valley breeze has got going.